Posts for category: Uncategorized
By Cohen Modern Dentistry, P.C
December 15, 2018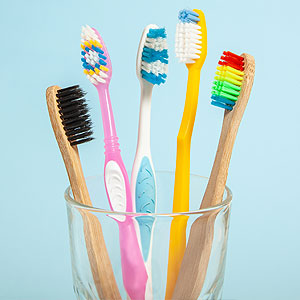 If there's one essential tool for protecting your dental health, it's the humble toothbrush. The basic manual brush with a long, slender handle and short-bristled head is still effective when used skillfully. The market, though, is full of choices, all of them touting their brand as the best.
So how do you choose? You can cut through any marketing hype with a few simple guidelines.
First, understand what you're trying to accomplish with brushing: removing dental plaque, that thin film of bacteria and food particles on tooth surfaces that's the main cause of dental disease. Brushing also stimulates gum tissue and helps reduce inflammation.
With that in mind, you'll first want to consider the texture of a toothbrush's bristles, whether they're stiff (hard) or more pliable (soft). You might think the firmer the better for removing plaque, but actually a soft-bristled brush is just as effective in this regard. Stiffer bristles could also damage the gums over the long term.
Speaking of bristles, look for those that have rounded tips. In a 2016 study, less rounded tips increased gum recession in the study's participants by 30%. You should also look for toothbrushes with different bristle heights: longer bristles at the end can be more effective cleaning back teeth.
As far as size and shape, choose a brush that seems right and comfortable for you when you hold it. For children or people with dexterity problems, a handle with a large grip area can make the toothbrush easier to hold and use.
And look for the American Dental Association (ADA) Seal of Acceptance, something you may have seen on some toothpaste brands. It means the toothbrush in question has undergone independent testing and meets the ADA's standards for effectiveness. That doesn't mean a particular brush without the seal is sub-standard—when in doubt ask your dentist on their recommendation.
Even a quality toothbrush is only as effective as your skill in using it. Your dental provider can help, giving you tips and training for getting the most out of your brush. With practice, you and your toothbrush can effectively remove disease-causing plaque and help keep your smile beautiful and healthy.
If you would like more information on what to look for in a toothbrush, please contact us or schedule an appointment for a consultation. You can also learn more about this topic by reading the Dear Doctor magazine article "Sizing up Toothbrushes."
By Cohen Modern Dentistry, P.C
June 12, 2018
Dental Implants Help Restore Function to Your Bite
Your smile is one of the first things that someone notices about you, and a missing tooth or multiple teeth can put a damper on that first impression. Dental implants are artificial tooth roots used to
support a restoration for a missing tooth or teeth, helping to stop or prevent jaw bone loss. By replacing missing tooth roots, dental implants provide people with the strength and stability to eat all the foods they love without struggling to chew. Dental implants can also stimulate and maintain jaw bone, preventing bone loss and helping to maintain facial features. With a visit to your dentist in Southgate, you can find out if you are a candidate for this smiling saving procedure.
Your Southgate Dentist Explains How Implants Work
Strategically placed, dental implants can be used to support permanent bridges, eliminating the need for a denture. Implants are synthetic structures that are placed in the tooth where the root normally is contained. They are anchored to the jawbone or metal framework on the bone and act as a foundation for an artificial tooth or permanent bridge. In some cases, dental implants can also be used to attach dentures.
Dental implants today are virtually indistinguishable from your other teeth. The appearance is aided in part by the structural and functional connection between the dental implant and the living bone. Implants are typically placed in one sitting, but require a period of osseointegration, which direct anchorage of the implant root and the bone of the jaw occurs.
Osseointegrated implants are the most commonly used and successful type of dental implant, taking anywhere from three to six months to anchor and heal. Once healed and anchored, your dentist in Southgate can complete the procedure with the placement of a crown. As soon as the implant has anchored with the jawbone, artificial prosthesis may be attached and the process is completed. If osseointegration does not occur, the implant may fail.
Advantages of Dental Implants
If you, like millions of adults, have lost one or more teeth, then you understand the unpleasant consequences that accompany tooth loss. Missing teeth result in an older appearance, discomfort, inconvenience and an overall less active lifestyle.
Since implants are securely attached, you gain confidence to eat what you like, speak clearly and freedom from embarrassment. Other benefits of implants include:
Improved Appearance: Dental implants look and feel just like your own teeth.
Improved Comfort: Implants are securely anchored, so there is no slipping as there is with dentures. This eliminates some of the key inconveniences of dentures, including poor fit, gum irritation, and pain.
Improved Health: Dental implants can help prevent deterioration of the jawbone caused by loss of teeth, so your face retains its natural shape.
Durability: Implants are strong and can last a lifetime with proper care.
Convenience: Unlike dentures, dental implants are permanent, eliminating the inconvenience of removing your dentures. With implants, you can brush and care for your teeth just as you would your natural teeth.
Not everyone is a good candidate for dental implants. If you've lost one or more of your natural teeth, it's possible to continue to live confidently with dental implants from your dentist in Southgate at Cohen Modern Dentistry, P.C.. They look and feel exactly like your natural teeth, and unlike conventional restoration solutions, implants can last a lifetime.