By Cohen Modern Dentistry, P.C
June 17, 2022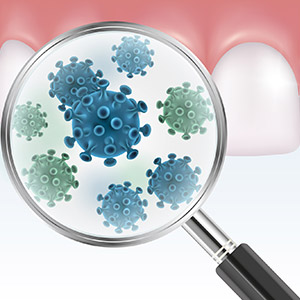 You can't rid your body of the trillions of bacteria that inhabit it—nor would you want to. Many of the thousands of species taking up residence in and around you are beneficial to you.
That includes the bacteria in your mouth living together in an invisible community known as a "microbiome." Our immune systems gradually learn to discern between those that mean us well and those that don't, and for the most part leave the former alone.
But although harmful bacteria are in the minority, they can still cause devastating infections like tooth decay and gum disease. Fortunately, we've identified their "base of operations"— a thin film of leftover food particles, that when joined with bacteria is referred to as dental plaque. Plaque buildup serves as the primary food source for harmful bacteria.
We can prevent disease by depriving bacteria of this food source—by brushing and flossing daily to remove plaque buildup. Oral hygiene, along with regular dental care, is the best way to reduce harmful oral bacteria and our risk for disease.
Without these measures disease can develop and advance quickly, damaging the teeth, gums and supporting bone. And in cases of advanced gum disease, dentists often turn to antibiotics to reduce bring rampant bacteria under control.
But we've learned the hard way that overused antibiotic therapy can cause more harm than good. For one, it can create resistance within the bacteria we're targeting that often render the antibiotics we're using impotent.
Furthermore, antibiotics can't always discern "good" bacteria from "bad." Beneficial strains may be destroyed in the process, leaving the rich bacterial "microbiome" in our mouths a wasteland. And as we're learning, our health could be worse for the loss.
To avoid this, we're beginning to use treatment applications that narrowly target malevolent bacteria while avoiding more benevolent strains. One helpful advance in this matter was the development of the Human Oral Microbiome Database HOMD, part of which has enabled us to precisely identify the individual bacteria that cause certain diseases. This has made it easier to target them with specific antibiotic drugs.
We still have much to learn about the microscopic world within our mouths. As we do, we can better cooperate with those "inhabitants" that help us maintain our health while fighting those that cause us harm.
If you would like more information on oral bacteria, please contact us or schedule an appointment for a consultation. You can also learn more about this topic by reading the Dear Doctor magazine article "New Research Shows Bacteria Essential to Health."