By Cohen Modern Dentistry, P.C
June 07, 2022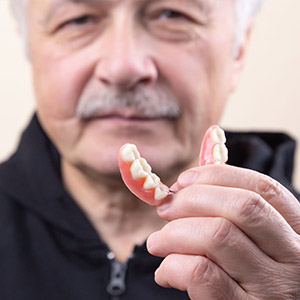 Once upon a time, losing all your teeth could shorten your life. Only the well-to-do could afford dentures, which were crude by today's standards. Modern dentures, by contrast, are vastly more life-like and functional and you don't have to be wealthy to own them.
Today's dentures are also more durable, potentially lasting for several years. But their longevity isn't inevitable. In fact, there are two crucial things you should do to get as much service life from them as possible: clean them regularly and take them out before you go to bed.
Although impervious to disease, dentures can still accumulate dental plaque, a thin film of bacteria and food particles. This buildup could make you more susceptible to infection from a particular kind of yeast called Candida albicans, which can cause your body's defenses to over-produce a protein call interleukin-6. This protein in turn could increase bodily inflammation linked to conditions like diabetes, arthritis, or heart disease.
To keep dentures clean, make a habit of removing and rinsing them after eating. You should also take them out and brush them at least once a day with antibacterial soap or a dedicated denture cleanser. Not toothpaste, though—its mild abrasives are too harsh for the appliance's dental materials, creating micro-scratches that can harbor plaque.
As to your second task: Wearing dentures all the time increases wear on them, as well as the supporting bone under the gums. The friction and pressure of dentures already tends to irritate the bone, causing further bone loss and a looser fit for your dentures. 24/7 denture wear accelerates this process, hastening the time when you'll need your dentures repaired or replaced.
And as with dirty dentures, wearing them all the time could harm your health. In a recent study of nursing home residents, those that wore their dentures around the clock were more than twice as likely to develop severe pneumonia as those who didn't.
Doing these two things for your dentures is simple and easy. But don't let that simplicity fool you! Following these habits could have a huge impact on both your dentures' service life and your health.
If you would like more information on denture care, please contact us or schedule an appointment for a consultation. You can also learn more about this topic by reading the Dear Doctor magazine article "Sleeping in Dentures: A Habit That Can Cause Health Problems."